"I love credit cards so much, I put them on everything -- keychains, coffee mugs, blankets, loved ones..."
―Alice, Guilty As Charged
Alice is a female shrew in Zootopia: Crime Files. She is suspected of making a large purchase at Vermin's with a stolen credit card. She appears in Case 7, Guilty As Charged.
Physical Appearance
Alice is a slim shrew with golden-brown fur and blue eyes. She has a large head of black hair with a maroon streak through the front, and green, eyelash-framed eyes. Her outfit consists of a pink T-shirt, blue overalls, and silver hoop earrings.
Role in the Game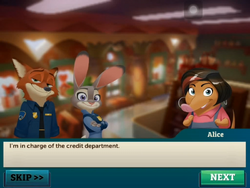 While searching for the suspect that used a stolen credit card, Detective Oates advises that Judy Hopps and Nick Wilde talk to an employee at the store where the purchase took place. They approach Alice and Judy asks her if it is true that she was spotted at the crime scene. Alice says yes, considering she works here in charge of the credit department. Judy realizes that someone in the credit department would have access to a lot of card numbers.
Later, Detective Oates says that he is suspicious of Alice on account of how little information she gave. They go to her again and Judy asks her about any details she didn't mention, and tells her she is not being charged with anything. Alice tells them they can search the store if they want.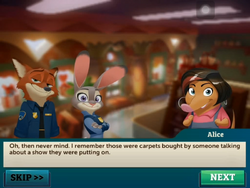 Judy and Nick find receipts for Vermin's for extra large lounge carpets in an apartment. The lab analyzes the receipts and Clawhauser tells them the product code number, MF49903BF37845, then corrects himself saying MF49903BF37846. Judy suggests they talk to Alice again about the code. They go to her and Nick tells Alice the code, and corrects himself about the last number being 6 not 5. Alice says she doesn't know the purchaser's name but she says the code rings a bell. She asks if it was the product code number with the last number as 5, and Nick says the code again with the last number being 6. She doesn't know but she says the carpets were bought by someone talking about a show they were putting on. Judy deduces that the criminal is an entertainer and thanks Alice for the help.
After the case is solved, Alice tells Judy and Nick she lost her keychain at Vermin's. At Vermin's, Judy and Nick find a lost-and-found box, which contains a credit card with a chain on it and wonder if that counts as a keychain. Judy and Nick bring it to Alice who explains that it is her keychain. She also explains that she loves credit cards so much she puts them on everything, including key chains, coffee mugs, blankets, and even loved ones. Judy remarks that everyone needs a hobby.

Trivia
Alice and Ilana share the same character model.
Gallery
Community content is available under
CC-BY-SA
unless otherwise noted.