"I'm a garbage collector. Slashed tires are garbage. Seems fairly self-explanatory."
―Antonio, Slashy Tires
Antonio Rutherford Pouncerman[1] is a male tiger who works as a garbage mammal in the game Zootopia: Crime Files. He is a suspect in a string of tire slashings. He appears in Case 3.
Physical Appearance
Antonio is a large, strongly built tiger with orange and black-striped fur, as well as a cream muzzle. He generally has an angry, stoic expression on his face. His outfit consists of a blue collared shirt and an orange construction worker vest. He has brown eyes.
Role in the Game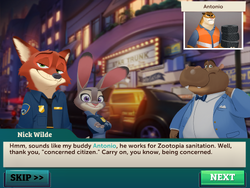 While questioning Two-Ton Teddy about the recent string of tire slashings, Teddy tells Judy Hopps and Nick Wilde that he saw a "suspicious looking" tiger hauling tires in an alley. Nick believes that this tiger could be Antonio, a friend of his who works for Zootopia sanitation.
Detective Oates suggests Nick and Judy talk to Antonio, since being a garbage mammal is "pretty handy alibi", and "maybe too handy".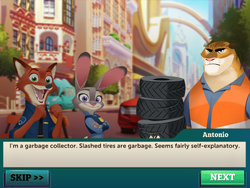 When Judy and Nick approach Antonio, Nick asks him about the slashed tires he was hauling. Antonio explains that he is a garbage collector and that slashed tires are garbage. When questioned about the grease under his nails, he says it must have come from handling all the tires.
Later, Detective Oates suggests that Judy and Nick talk to Antonio once more. Upon being asked if he has gotten any more slashed tires, the tiger states that has indeed been getting a lot of tires, and more from Mitch more than anyplace else, leading Judy and Nick to search the alley behind Mitch's shop.
After the case is solved, Antonio asks Judy and Nick to find a lost handkerchief that is special to him. He explains that it was an embroidered gift that he last used in the alley behind Mitch's. Upon finding the handkerchief, which is covered in dirt, they examine it and see it has the monogram "A.R.P.", which Nick claims stands for "Antonio Rutherford Pouncerman". They clean the dirty handkerchief and return it to Antonio, who flatly thanks them.

Trivia
Antonio is currently the only tiger to be seen in Zootopia: Crime Files to date.
Gallery
References
Community content is available under
CC-BY-SA
unless otherwise noted.