| | |
| --- | --- |
| | This article is or has been the Featured Article on the Zootopia Wiki! |

Barry DiCaprio[1] is a male grizzly bear and a minor character in Zootopia.
Physical Appearance
Barry is a large, bulky bear with thick brown fur and brown eyes to match. He wears a pale blue t-shirt with yellow trim and a big, yellow "Z" in the center, as well as dark blue shorts.
Role in the Film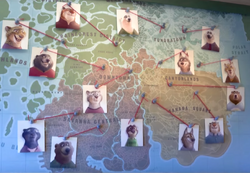 Barry makes several cameos in the film. He is first seen reading a newspaper at Zootopia Central Station in Savanna Central.
The next day, on Judy Hopps' first day as an officer, Chief Bogo announces fourteen missing mammal cases, and Barry is shown to be one of the predators on the bulletin map.
When Judy and Nick Wilde sneak into Cliffside Asylum, Barry, now in a savage state, can be seen growling in one of the cells. He and the other missing predators, who have also gone savage, are moved to another hospital after a police raid on the asylum, the cause of their savage behavior still a mystery.
Near the climax of the film, two photos of Barry can be seen on Doug Ramses' victim wall.
He is cured of his affliction after a Night Howler antidote is developed, and later goes on to attend Gazelle's concert.

Trivia
His name is a reference to The Revenant, a 2015 film starred by Leonardo DiCaprio, in which the star's character Hugh Glass is attacked by a bear.
Aside from being a missing mammal, Barry and/or the character model used for him is seen in the background on several occasions in the film:
His photo on the ZPD map points to somewhere around the Canyonlands, indicating that is where he was last seen before he disappeared with other missing animals.
The two photos of him on Doug's transit map are different and are pinned on different locations; one picture of him shows him carrying a grocery bag while talking on his phone at the Zootopia Central Station, and is pinned on the Meadowlands. The second picture of him is pinned on the outskirts of Tundratown and shows him drinking from a cup. As a result, it is unclear where he was actually darted by Doug.
Gallery
References