Bellwether's office is an office room in City Hall where Bellwether used to work in until she became the mayor of the city in Zootopia.
Role in the Film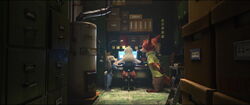 Bellwether's office is first seen when
Judy Hopps
and
Nick Wilde
arrived to see Bellwether for assistance to access the traffic camera database. After when Bellwether accessed the traffic camera database on the computer, she had to cancel
Mayor Lionheart
's afternoon meeting, so she let Judy and Nick look on the traffic camera.
Judy and Nick use the traffic cameras to track the van containing the wolves that captured Renato Manchas in the Rainforest District. They trace it through Zootopia and eventually to Cliffside Asylum.

In the sixth case of the game, Bellwether's office is one of the locations where Judy and Nick search for clues for the vandalism of the Natural History Museum.

Inhabitants
Trivia
In The Essential Guide, Bellwether claims that the bleach fumes in her office help keep her wool white.
Gallery
Community content is available under
CC-BY-SA
unless otherwise noted.