"When I get behind something, I'm totally devoted to it! At least until the next thing comes along."
―Bridget, It's Only Natural
Bridget is a female badger in Zootopia: Crime Files. She is suspected of vandalizing The Mystic Spring Oasis. She appears in Case 10.
Physical Appearance
Bridget is a black-furred badger with a round face, small, pointy ears, and a tuft of white fur on the top of her head. Her outfit consists of a coral top, white jacket, a brown beaded necklace, and large, round, black glasses. She has green eyes.
Role in the Game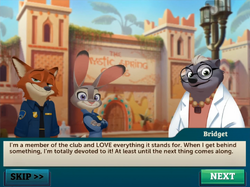 While investigating the vandalism of The Mystic Spring Oasis, Monty tells Judy Hopps and Nick Wilde that he saw Bridget when he left The Mystic Spring Oasis, so the pair go to question her. Judy asks Bridget if she saw anything when around the crime scene. Bridget evades the question by telling them how much she loves the Oasis and that whenever she likes something, she devotes herself to it. The badger then leaves, but not before suggesting that Judy and Nick check the lobby of the Oasis.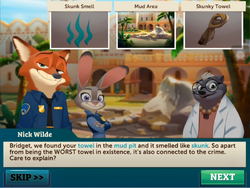 Later, Judy and Nick find a towel with Bridget's monogram on it while searching the mud area, so they return to speak with her. Nick asks the badger to explain why her towel was in the mud pit, and she replies that she often visits a skunk neighbor of hers, but whenever she leaves she smells like skunk, so she takes a dip in the mud pit to wash the stink away.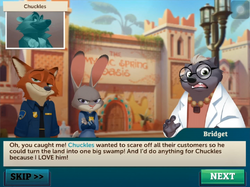 After talking to Carla about a rope they found, Judy and Nick realize that the rope is used for eyeglasses, They learn that the culprit wears eyeglasses and they go to arrest the culprit: Bridget. Bridget confesses that she was going to turn The Mystic Spring Oasis into a swampland on Chuckles' request; she adds that she loves Chuckles and would do anything for him.

Trivia
Bridget is currently the only badger to be seen in Zootopia: Crime Files to date.
Gallery
Community content is available under
CC-BY-SA
unless otherwise noted.