"I totally get most of my fruit for my juice bar at the fruit stand."
―Cleo, Burgled Berries
Cleo is a female giraffe in the game Zootopia: Crime Files. She is suspected of robbing shipments of bogberries. She appears in Case 8.
Physical Appearance
Cleo is a giraffe with orange fur covered in brown spots. She has a lighter face and long ears, as well as turquoise eyes. She wears a blue baseball cap with a yellow sun motif on it, and usually has a relaxed expression on her face.
Role in the Game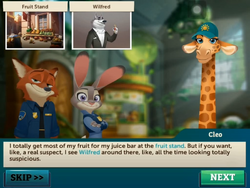 While searching for the suspect who robbed a shipment of bogberries, Judy Hopps and Nick Wilde find a dirty flyer as one of their clues at the fruit stand. The flyer is for Cleo's Juice Bar. They decide to talk to Cleo. They go to her and Judy asks why her juice bar flyer is at the crime scene. Cleo says she dropped it. Judy says that it's a likely story, then says it is pretty likely. Cleo says she got most of her fruit for the juice bar from the fruit stand. She says if they want a real suspect, they should talk to Wilfred. Nick recognizes him as the jewelry thief who was behind bars, and says it would be interesting to talk to him, following up that sentence with "Totally".
Following Wilfred's advice, they search Cleo's juice bar and find a letter. The letter is juice-soaked and Judy deduces that it has some juicy information. After cleaning the juice off, Nick sees that the letter is from Cleo to the fruit stand and it is an angry letter. Judy reads the letter, "Orange you ashamed of yourself? I'm berry angry with you! I can pearly contain myself." They go to Cleo and Judy asks her why is she so angry with the fruit stand, using fruit puns. Cleo says she was blowing off steam. She gets so angry because their fruit spoils so fast and it hurts her juicing. Nick says that's a motive.
After the case is solved, Cleo tells them that she's totally missing her juicing tool and she left it at the juice bar. Judy promises they'll find it. At the juice bar, they find a newspaper-wrapped thing which they think could totally be Cleo's juicing tool. After unwrapping it and using the word "totally" a bunch of times, they find parts of a juicing tool. Clawhauser assembles the parts in the lab and tells them it is a juicing tool. He says that he juices his donuts, which makes him a great drink when he needs a little pick-me-up. Judy and Nick say that's totally very Clawhauser. They return the juicing tool to Cleo. Cleo thanks them and asks if there's donut icing on it, to which Nick replies "Totally".
Trivia
Gallery
Community content is available under
CC-BY-SA
unless otherwise noted.