| | |
| --- | --- |
| | This article is or has been the Featured Article on the Zootopia Wiki! |
Cliffside Asylum, also referred to as just "Cliffside", is an asylum/hospital in the city of Zootopia. The asylum was used to treat the animals who had turned savage from the Night howler sickness.
Role in the Film
The asylum is located somewhere in the Meadowlands, far away from the inner city and is accessed through a maintenance tunnel in the Rainforest District. The main building is established on a small island in the middle of a waterfall, accessible by a bridge spanning over the crest. Presumably, it was once a working asylum and/or hospital but was at some point abandoned for unknown reasons.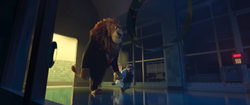 However, it is reopened privately by Zootopia's mayor, Leodore Lionheart, in order to hide the "savage" predators and prevent public panic. He has hired Dr. Madge Honey Badger to determine the cause of the predators' strange behavior and find a cure, as well as a team of elite wolf guards to capture any savage animal and add security detail to the asylum.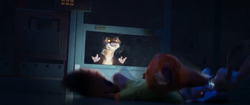 It is found when Judy Hopps and Nick Wilde trace a truck carrying Mr. Manchas by using security cameras to the asylum. Judy and Nick manage to sneak into the asylum by distracting the wolf guards and then discover all of the kidnapped, savage mammals, one of them being Emmitt Otterton.
Judy then manages to record a conversation between Madge and Lionheart in which it is revealed that he's the one responsible for ordering the captures, almost getting caught as her parents try to call her in the process.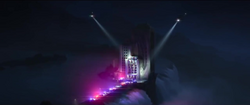 Just before the wolves catch up to them, Judy and Nick manage to escape the asylum with the evidence unharmed by using a toilet to flush themselves. Shortly after, the asylum is raided by the now-informed Zootopia Police Department, which arrests Lionheart and his employees for their illegal activities.

Employees
| | | |
| --- | --- | --- |
| Other wolves | Security Guards | |
Trivia
Cliffside Asylum bears resemblance to Arkham Asylum from the Batman franchise.
Gallery
References