This article is about the mouse. You may be looking for the elephant.
"How should I know? My flyers turn up everywhere, and that's good for business!"
―Colby, Slashy Tires
Colby is a male mouse in Zootopia: Crime Files. He is a print shop owner and a skateboarder who is a suspect in a string of tire slashings. He appears in Case 3.
Physical Appearance
Colby is a mouse with grey fur and a large beige pink nose and ears. He sports a pair of buckteeth and a large tuft of fur on the top of his head. His outfit consists of an orange shirt with an arrow design on it and his only accessory is a skateboard he carries across his back.
Role in the Game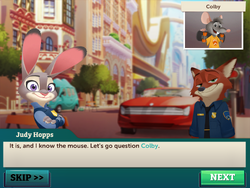 While searching for clues in the Plaza, Judy Hopps and Nick Wilde find a torn flyer. After they piece it together, they discover that it is an ad for Cheesy Printing. Nick guesses that it's a mouse-owned business and Judy knows the mouse: Colby.
When Judy questions Colby why his flyer is in the crime scene, Colby responds his flyers turn up everywhere and it's good for his business. He also said slashed tires when someone owes a tire shop is good for business and suggests they talk to the tire shop owner, Mitch.
He also suggests they talk to the limo driver, Marie, for she hasn't had her tires slashed. Nick points out that his nails are greasy. Colby states he changed the tires himself after they were slashed, but it didn't work out well, so he had to take the bus.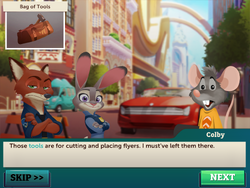 Later, Judy and Nick find a bag of tools at the Plaza and they find out that it belongs to Colby. Though they thought the tools were used to slash tires, Colby says that he used them for cutting and pasting fliers and that he left them there. He also gives Judy and Nick leads about Mitch in the alley behind his shop after hours.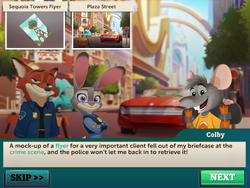 After the case is solved, Colby asks Judy and Nick to retrieve a mock-up flyer for an important client that fell out of his briefcase that the police won't let him retrieve. They find the flyer, piece it together, and discover it's for an establishment called Sequoia Towers. After they make out the reading, they return it to Colby. When asked about Sequoia Towers, Colby states it's the latest innovation in forward-thinking environmental living.
Trivia
Gallery
Community content is available under
CC-BY-SA
unless otherwise noted.