Dinks is a male gerbil in Zootopia: Crime Files. He is suspected of robbing the Tiger's Eye Jewelry Store in Case 5, Necklace Nabbers.
Physical Appearance
Dinks is a short gerbil with dusty brown fur. He sports a dark brown muzzle, paws, and a pink nose and ears, as well as a set of lopsided buckteeth and whiskers. His large, bushy eyebrows are also dark brown. His outfit consists of a black t-shirt, a giant golden medallion, two gold bracelets- one a watch; one a chain- and large glasses. Dinks almost always has a cocky and sleazy expression on his face.
Role in the Game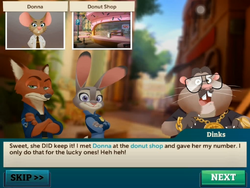 While on the case of the missing necklaces, Judy Hopps and Nick Wilde find a notebook in a back alley of Savanna Central. They find a napkin with a phone number written on it and discover the number belongs to a gerbil named Dinks. They question Dinks about his number being in the notebook at the scene of the crime. Dinks says he is happy that Donna kept it, and that he met Donna at the donut shop and gave her his number. He said he only does it for "all the lucky ones". Judy says if she did lose the number, she's lucky. Nick judges Judy, saying beneath Dinks' sleazy exterior is a "sleazy interior" but he agrees with her. They learn from Donna that he left to meet a wolf named Wilfred.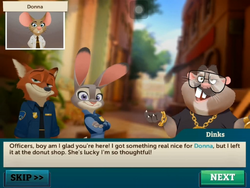 After the case is solved, Dinks told Judy and Nick he got something real nice for Donna but he left it at the donut shop. He says she's so lucky he's thoughtful and Nick adds forgetful. Dinks said he wouldn't want to deprive Donna of her generosity. Judy and Nick find the gift which appears to be "suspicious and cheap" at the donut shop and have the lab analyzed it since it's from Dinks, anything could be "hazardous". The gift turns out to a donut-shaped stress ball which was almost eaten by Clawhauser. Judy and Nick return the gift to Dinks and he thanks them saying they're the best and says he is too. Nick sees why Donna likes him; modesty is very attractive.

Trivia
Dinks is currently the only gerbil to be seen in Zootopia: Crime Files to date.
Gallery
Community content is available under
CC-BY-SA
unless otherwise noted.