| | |
| --- | --- |
| | This article is or has been the Featured Article on the Zootopia Wiki! |
"Oh, there you went, you little dickens!"
―Clawhauser to his donut before eating it whole
Donuts are a type of fried dough or dessert food that are often filled with chocolate, jam, or cream, and sometimes covered in sprinkles. They are seen several times in Zootopia.
Role in the Film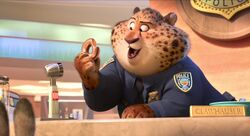 A donut is first seen near the beginning of the film, during Judy Hopps' first interaction with Officer Clawhauser at the ZPD. After inadvertently offending and stereotyping Judy, he apologizes and berates himself, calling himself a "flabby donut-loving cop". Judy forgives him and then notices that Clawhauser has something in the fold of his neck, and Clawhauser pulls a chocolate donut out of his neck flab. He then eats it, to Judy's slight disgust.
Later, during the chase between Judy and Duke Weaselton in Little Rodentia, Duke kicks a huge donut sign off the top of a store called "The Big Donut" at Judy, who ducks. The sign thunders down the street and almost hits Fru Fru, but Judy catches it just in time and uses it to apprehend Duke.
Clawhauser is later seen holding a chocolate donut with sprinkles while talking to Mrs. Otterton; he has it yet again when he tries to assist Judy on the Emmitt Otterton case. The sprinkles fall on the case file, which Judy brushes off and proceeds to look at it.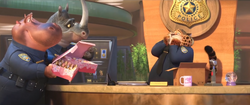 At the end of the film, after Clawhauser is reinstated as secretary for the ZPD, his colleagues, Krumpanski and Higgins, present him with two boxes of donuts, to which he happily accepts.

Known Flavors
Gallery
See also