Doug's lab is a laboratory housed within an old subway car owned by sheep scientist Doug Ramses in Zootopia. Doug used the lab to farm and weaponize mind-altering flowers called Night howlers to turn predators savage, as the central part of Dawn Bellwether's prey-supremacist scheme.
Description
Doug's lab is an old train car that has evidently been abandoned for some time. On the outside, it is very rusty and covered in graffiti, much of which is rotted. Inside, however, it is more impressive. The main section of the train contains a small Night howler farm, with purple lights above the flowers, a vat, and a chemistry set, as well as a transit map of the entire city of Zootopia, showing the subway lines and where he darted the predators. There are also many vials, tubes, and books in the corners. Despite its old and rusty appearance, the train is still functional.
Role in the Film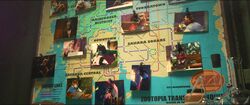 Doug's lab is seen near the climax of the film when Judy Hopps and Nick Wilde search the underground subway system for Doug under instruction from Duke Weaselton, who had previously been hired by the ram to collect Night howlers for him. Judy and Nick sneak into the train car and find the small Night howler farm it hides. They quickly dive under a table just as Doug walks into the room.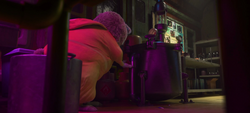 Wearing protective clothing, Doug takes a pot full of harvested Night howlers and converts the flowers into a serum, which he then transfers to a small glass paintball-like pellet, and loads into a dart gun. He then gets a phone call from his mysterious client, who tells him of his next target; a cheetah in Sahara Square. Doug assures the client that he can hit the cheetah, despite their speed. After hearing Woolter and Jesse arrive with a latte for him, Doug opens the door, only to be kicked outside and locked out by Judy, who then starts the train car.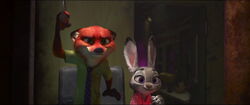 With Jesse and Woolter hot on their tails, Judy and Nick drive the car through the subway tunnels, eventually ridding themselves of the two tough, but bumbling rams. However, they crash and the train car, along with the Night howler evidence, explodes, all except for a case containing Doug's dart gun and the serum pellets, which Nick had managed to retrieve before they fled the car.
Employees
Trivia
A picture of Oswald the Lucky Rabbit can be seen on the side of Doug's lab.
Gallery