"We cannot keep it a secret. We need to come forward! "
―Dr. Madge Honey Badger about the savagery of the missing mammals
Dr. Madge Honey Badger is a female honey badger and a medical advisor to City Hall in Zootopia. She works at Cliffside Asylum.
Role in the Film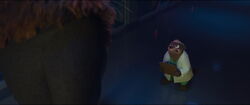 Her position ultimately leads to her being approached by Mayor Lionheart and heading the initial research on the 14 savage mammals, including Renato Manchas, conducted in an abandoned hospital. However, she is unable to find the cause of their savagery.
When confronted by a furious Lionheart during Officer Hopps' intrusion, Dr. Madge is overheard stating to the mayor that it might be time to "consider their biology", as the only animals going savage are predators. She also states that the public needs to be made aware of this, only to be protested by Lionheart, who reminds her that he himself is a predator.
They hear Judy's phone go off shortly after, to which Dr. Madge calls upon security to sweep the area.
Dr. Madge and Lionheart are arrested when Judy notifies the police of the missing mammals, and Judy later pressed to answer questions about the missing predators having turned savage, ultimately repeats what Dr. Madge told Lionheart, verbatim.

Relationships
Dr. Madge's relationship with the Mayor of Zootopia seems to be fairly tenuous. At the Mayor's insistence, Dr. Madge is put onto the case of investigating why the predators around Zootopia are going savage.
In one of her brief meetings with Mayor Lionheart, which can be assumed to be fairly regular, she hypothesizes that the savagery may be down to biology.
Unbeknownst to her or Mayor Lionheart, Judy Hopps and Nick Wilde have been listening in on the conversation, and both Madge and Mayor Lionheart are arrested. Later on, Judy uses Madge's explanation, therefore accidentally incriminating all predators.
Trivia
The character Honey Badger was scrapped and remade into Dr. Madge.
Dr. Madge is incorrectly referred to as being male in A Big Golden Book: Zootopia.
Dr. Madge is the only honey badger ever to be seen in the film.
Gallery