This article is about the elephant in Zootopia: Crime Files. You may be looking for the rabbit from the comic.
Earl is a male elephant in the game Zootopia: Crime Files. He is suspected of vandalizing Jumbeaux's Café in Melting Messes in the early version. In the updated version of said case, he is suspected of vandalizing Flora & Fauna.
Physical Appearance
Earl is a large elephant with gray skin, blue eyes, and a long trunk. He sports big flappy ears and small, white tusks that protrude from under his nose. His outfit consists of a yellow T-shirt and black square glasses.
Role in the Game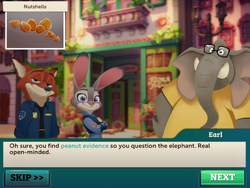 Earl is questioned by Judy Hopps and Nick Wilde after they examine empty nut shells in Rodney's pawn shop/Jumbeaux's Café. He was offended by that even if he has dirt/ice cream all over his hooves.
He said the last time he was here, he heard Raoul/Jerry Jumbeaux, Jr. arguing with Rodney/Paul and tells them to talk to them, but then asks Judy and Nick if they have any peanuts.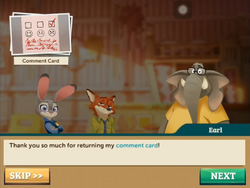 After the case is solved, Earl asks for their help. He left something important in the pawn shop/Jumbeaux's Café. They see a trash can and discover a comment card in it and it has a bad review about the service. They analyzed the handwriting which happens to be Earl's. Earl says he's a writer and it's the "finest work he's done in ages." Nick says he's always happy to help a fellow artist, but Judy comments, "Con artists don't count."

Gallery
Community content is available under
CC-BY-SA
unless otherwise noted.