Ernie is a young male elephant and a main character in Judy Hopps and the Missing Jumbo-Pop.
Role in the Book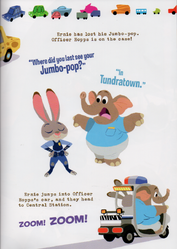 After settling the fight between Carson and Spencer, Judy Hopps hears a cry for help. Ernie, a young elephant, tells her that he has lost his Jumbo-pop and that he last saw it in Tundratown. He and Judy hop into Judy's car and they drive to Central Station.
At Central Station, Judy and Ernie board the train to Tundratown. They have one hour to find the Jumbo-pop. On the train, Ernie marvels at the conductor's ticket-punching skills, but Judy brings him back to earth by asking him what he remembers. Ernie replies he remembers hearing a song about tuna. At that moment,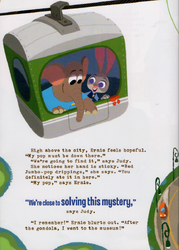 they pass a group of musicians in the Rainforest District, meaning that they are on the right track. Then, they pass the Mystic Spring Oasis. Ernie can't remember anything about his pop.
The train reaches Tundratown and Ernie remembers that he was watching a hockey game, after seeing his friend, Amos. Amos reminds Ernie that he went to Jumbeaux's Cafe next.
At Jumbeaux's, Ernie remembers that after getting his pop, he took a ride on the gondola. They go to the Rainforest District and board a gondola. Judy sees sticky red paw prints, meaning that Ernie ate his pop there. Ernie remembers that after leaving the gondola, he went to the museum.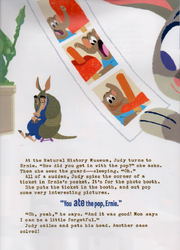 Back on the train, Ernie sees a Jumbo-pop that resembles his, but it belongs to Dandy, a lioness cub, much to his disappointment. At the museum, Judy suddenly notices a ticket for a photo booth in Ernie's pocket. She puts the ticket into the booth and pictures of Ernie eating the pop come out. Ernie sheepishly declares that he can be forgetful, but Judy pats him on the head and declares the case closed.

Gallery
References
Community content is available under
CC-BY-SA
unless otherwise noted.