Finnick's lady friend is an unseen character mentioned in Case 8 of Zootopia: Crime Files. She is supposedly the girlfriend of Finnick.
Role in the Game
This character has a small role in Burgled Berries. Finnick tells Judy Hopps and Nick Wilde that his lady friend likes The Green Horn, a juice bar, and Judy and Nick go to search for clues there.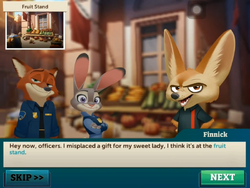 Later,
Chief Bogo
informs Judy and Nick that Finnick lost a gift for his lady friend. The pair visit Finnick and he tells them that he thinks he lost it at the Fruit Stand. Once there, Judy and Nick find a broken necklace. They fix it, return it to Finnick, and he thanks them, saying that "his lady" will be thrilled, especially since the necklace was broken to begin with.
Community content is available under
CC-BY-SA
unless otherwise noted.