Flora & Fauna is a flower shop owned by the Frantic pig in Zootopia.
Role in the Film
During a hard day working as a meter maid, Judy Hopps steps into her cart, which is parked outside of Flora & Fauna.
A moment after, the Frantic pig approaches Judy, informing her that his shop has been robbed and begs her to stop the criminal who stole from him, to which Judy complies.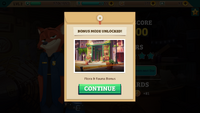 Flora & Fauna appears in both versions of the second case of the game.
In "Melting Messes", Flora and Fauna is inspected while Judy Hopps and Nick Wilde search for the suspect that vandalized Jumbeaux's Café.
In the updated version, "Seeds of Doubt", Judy and Nick search for the suspect that vandalized Flora & Fauna.
Employees
Trivia
Gallery
Community content is available under
CC-BY-SA
unless otherwise noted.