Flower is a female pig in Zootopia: Crime Files. She is suspected of vandalizing The Mystic Spring Oasis. She appears in Case 10.
Physical Appearance
Flower has pink skin and large floppy ears, as well as a tuft of blonde hair on her head. Her outfit consists of a pink sweater, white cardigan, glasses, and a beaded necklace. Her eyes are blue.
Role in the Game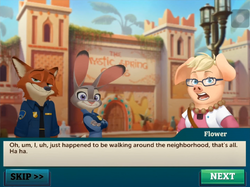 Judy Hopps and Nick Wilde visit Flower because she was seen around The Mystic Spring Oasis the night it was vandalized. Flower nervously tells them that she was simply walking around the neighborhood and considered going inside the Oasis, but didn't.
Later, Judy and Nick find a notebook with the name "Flower" scribbled all over it, so Judy concludes that it must belong to the pig, but Nick suggests that it might be someone who likes Flower instead and explains that he did the same thing to a girl named Marian, who did not like it.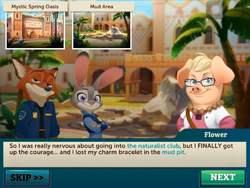 After the case is solved, Chief Bogo tells Judy and Nick that Flower wants to speak to them, so they go to visit her. Flower explains that when she finally summoned the courage to enter The Mystic Spring Oasis, she lost her bracelet in the mud pit. Judy and Nick search the pit and find a bracelet, which Officer Clawhauser confirms to belong to Flower. The pair return the bracelet to Flower, who thanks them.

Gallery
Community content is available under
CC-BY-SA
unless otherwise noted.