"I didn't start it!"
―Gary about the "howl"
Gary is a male wolf in Zootopia. He works as a security guard at Cliffside Asylum.
Physical Appearance
Gary is a tall, slender wolf with pure white fur from head to tail. His eyes are brown and he sports tall, pointy ears. He wears a black trench coat and navy blue pants.
Role in the Film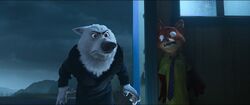 Gary is seen near the middle of the film keeping watch over the entrance to the asylum, along with other wolves. He is alerted of Nick Wilde's presence as the fox slips by him and hides behind the gate.
Gary catches Nick's scent and starts to track him down, but Judy Hopps begins howling to distract him. He joins in with his own howls but is quickly silenced by his colleague, Larry, warning him not to start a howl.
Gary claims that he didn't start the howl, but Judy continues to howl, forcing Gary to continue as well, inadvertently causing every other wolf standing guard to join in, allowing Judy and Nick to sneak past them.
Trivia
Gary often holds his paws in the "beg" position of a dog.
Gallery