"Me? Oh no no no, we're a grass bar. We don't do fruits. No, no fruits. We're a grass bar."
―Glenn, Burgled Berries
Glenn is a male beaver in the game Zootopia: Crime Files. He is suspected of robbing shipments of bogberries. He appears in Case 8.
Physical Appearance
Glenn is a brown-furred beaver with a cream-colored muzzle and a large black nose. He has long, white whiskers, beady black eyes, bushy brown eyebrows, and one bucktooth. His outfit consists of a yellow shirt and olive-green overalls.
Role in the Game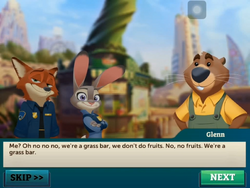 While looking for the suspect who robbed bogberries, Judy Hopps and Nick Wilde see a Green Horn flyer from Finnick. They learn that the Green Horn is a grass bar competing with a Juice Bar run by the owner, Cleo, a giraffe. They question Glenn about the robberies at the fruit stand. Glenn says they're a grass bar and that they don't do fruit. Judy asks if he needs bogberries, and Glenn denies this too, saying that the Green Horn "doesn't do tasty". He says that the juice's special recipe is whipped up by the owner Katee, and they stay up all night filling their van with it.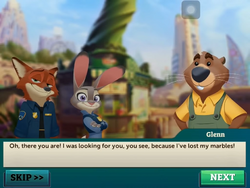 After the case is solved, Glenn tells them that he "lost his marbles". He says he left them at the Green Horn. They find a fertilizer sack at the Green Horn. Inside the sack, they find suspiciously fertilizer-covered round rocks. After cleaning the fertilizer off, it is revealed that they are the marbles. Judy and Nick return the "literal lost marbles" to Glenn. He thanks them, saying he was going nuts looking for them. He asks what do they call when someone's gone completely crazy. Nick suggests joining the Zootopia Police Department, thanks him, and bids him good night.

Gallery