"Greasy walls....rickety bed...crazy neighbors. I love it!"
―Judy Hopps
The Grand Pangolin Arms is the apartment complex Judy Hopps moves into after she leaves Bunnyburrow and travels to the city in Zootopia.
Description
The three residents which are known to live in the apartment complex are Judy, as well as Bucky and Pronk Oryx-Antlerson. Dharma Armadillo, an armadillo, is the landlady.
Judy's living space is a small, single room that is in a rather dirty condition and it contains a bed, a shelf, a closet, and one narrow window, along with a mirror, a microwave, and a desk with a lamp; it is unknown if the other residents live in rooms that are any larger.
Role in the Film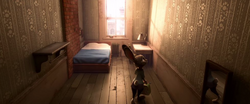 Judy Hopps moves into the Grand Pangolin Arms when she moves to Zootopia. After Dharma introduces Judy to her room, Bucky and Pronk are seen walking to their apartment (which is next to hers) as Judy tries to greet them, but the two merely warn her about their loud squabbles with each other and told her to not expect an apology.
Judy realizes that her small living space has poor hygiene and "crazy neighbors", but she proclaims that she loves her new home anyway. The next morning, Judy awakens and departs for her first day on the job at the ZPD.  
After being assigned meter maid duty against her wishes, Judy returns home depressed that night. She attempts to listen to the radio, but quickly turns it off due to the depressing songs that play. She then attempts to cook a pack of "Carrots for One", which is actually just one carrot, for herself. After microwaving it, it is shriveled up, tiny, and unappetizing, prompting Judy to throw it away. After Muzzletiming with her parents, Judy assures herself that the next day will be better, with Pronk yelling it might be worse. 
The apartment is not seen again from this point. 

Employees
Inhabitants
Trivia
The name of the apartment refers to pangolins, animals that resemble armadillos, Dharma's species.
One of the pictures on Judy's wall has a bear resembling Bongo the bear from Disney's Fun and Fancy Free.
Gallery
Community content is available under
CC-BY-SA
unless otherwise noted.