"I don't watch the acts. I hate magic. It's all fake. I only like things that are real, like slot machines."
―Grant, Abracadabra
Grant is a male polar bear in Zootopia: Crime Files. He is suspected of sabotaging Sebastian's act. He appears in Case 12.
Physical Appearance
Grant is tall with brown eyes, bushy eyebrows, and white fur typical of polar bears. He wears an off-white shirt with a crimson tie, a deep red jacket with gold buttons, and a matching hat.
Role in the Game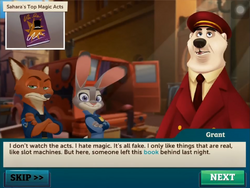 After finding employment pamphlets while investigating a crime scene, Judy Hopps and Nick Wilde ask Grant if he owns them. Grant merely grunts, so Nick tries again, asking if he knows anything about the sabotage of The Amazing Sebastian's act. Grant explains that he doesn't watch Sebastian's shows because they are all fake; he hates magic and he likes slot machines. He then presents Judy and Nick with a book that someone left at Sebastian's auditorium the night before. Judy sees the book title, "Sahara Square's Top Magic Acts", thanks him, and she and Nick leave to analyze the book.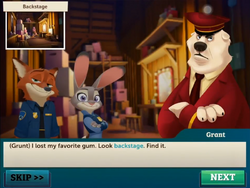 After the culprit is discovered and the case is solved, Judy and Nick visit Grant again, who orders them to find his missing gum. The pair search backstage, find the gum, and return it to Grant, who cheerfully thanks them while chewing it; he explains that gum is the only thing that makes him happy.

Trivia
Grant is currently the only polar bear to be seen in Zootopia: Crime Files to date.
Gallery
Community content is available under
CC-BY-SA
unless otherwise noted.