"I am a simple janitor. I run a simple life. I do my job and I keep to myself."
―Herbert, Jail Break!
Herbert is a male goat in Zootopia: Crime Files. He is suspected of helping Chuckles escape from prison and ransack the ZPD. He appears in Jail Break!, the ninth case in the game.
Physical Appearance
Herbert is a grizzled old goat with white fur with black touches. He has a long snout and beard, as well as a rather large underbite, and two small horns protrude from his head. His eyes are blue with black rectangular pupils with rounded corners. Herbert's outfit consists of a bluish-green janitor uniform with a brown belt.
Role in the Game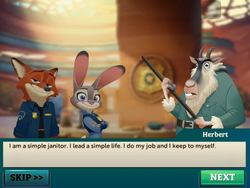 Judy Hopps and Nick Wilde search for the suspect who let Chuckles out of prison. After talking to Neil, the jailer's assistant, Nick suggests they talk to the janitor, Herbert. They go to Herbert and Judy reminds him that he was working the night Chuckles escaped. They ask him if he saw anything suspicious, like Chuckles escaping. Herbert replies he is a simple janitor who runs a simple life, does his job, and keeps to himself. Nick calls Herbert a terrible witness and suggests they search the briefing room for leads.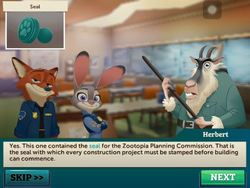 In the briefing room, Judy and Nick find a dirty display case, and after cleaning it realize it is empty. Judy wonders what it holds and Nick thinks that Herbert would know. They go to Herbert again and Nick tells him about the display case, that something was being stolen, and asked if he looked at it. Herbert says that the case contains the seal for the Zootopia Planning Commission. It is the seal with which every construction project must be stamped before building can commence. Judy seems amazed at how he knows about urban planning. Herbert says he has a keen interest in real estate and he got it from his friend, Yolanda, a county clerk, and suggests they talk to her.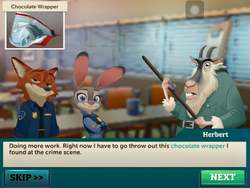 Later, after talking to Chuckles' lawyer, Phil, they decide to talk to Herbert if he noticed any burned paper or maniacal laughter. Judy asks Herbert if he smelled any burning paper the night of Chuckles' escape. Herbert says he doesn't notice things, because it saves time. Nick asks what he uses his saved time for. Herbert responds doing more work. He says he's throwing away a chocolate wrapper from the scene of the crime. Judy notices it, takes it, and has the lab analyze it, which leads them straight to the culprit.

Trivia
Herbert is currently the only goat to be seen in Zootopia: Crime Files to date.
Gallery
Community content is available under
CC-BY-SA
unless otherwise noted.