Not to be confused with Herve.
Irv is a male ibex in Zootopia: Crime Files. He is suspected of rigging the sprinkler system during the Mammal Electronic Show. He appears in the fourteenth case of in the game, "A Fine "Mes"".
Physical Appearance
Irv is a white-haired ibex with tall, pale, brown horns that curve at their tops. His visible outfit consists of a red jacket with a lavender undershirt and dark pants with a belt. His eyes are blue with black rectangular pupils with rounded corners.
Role in the Game
Judy Hopps and Nick Wilde find a brochure for the convention at the pool. They talk to Clive about the brochure and dismiss him as suspicious. Clive says Irv's been hanging around the lobby all day staring at everyone. Judy sees that fits the description and they go speak to Irv. Judy asks Irv why he's been hanging around the lobby all day, staring at convention-goers. Irv says he's a guest, he can stare at anyone he wants, and it's not against the law. Judy agrees but adds that it's creepy. Irv says that he's gathering material and that's all he can say because he's under a very strict non-disclosure agreement. Nick didn't understand and Judy sees that Irv dropped a torn convention ID.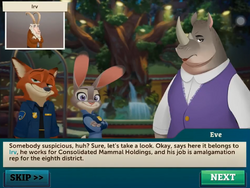 They piece it together, see that the ID has a barcode on it, and they take it to Eve. Eve looks it up on the computer and says that the ID belongs to Irv, he works for Consolidated Mammal Holdings, and his job is amalgamation rep for the eighth district and they don't know what it means.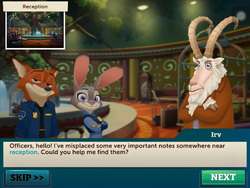 After the case is solved, Irv tells them he misplaced some very important notes somewhere near reception and asks them to help him find them. Judy asks if Irv can tell us what the notes are for and Irv grumpily says that's strictly on a "need-to-know basis". The pair find the notes torn and they tape it together, hoping they'll "accidentally" see what they are. Judy finds that the notes are completely indecipherable, so they send it Clawhauser in the lab. After analyzing them, Clawhauser says the notes are weird and they talked about amalgamated holdings congealing in the fourth quarter, which he always thought they did it in the third quarter. This confuses Judy, but Clawhauser says he was kidding and he has no idea what they say. Judy and Nick return the notes to Irv. Judy starts to guess what the notes are the topic of, but Irv, grumpily, says it's no interest to them and thanks them. Nick says she tried, though he said not very hard or very well.
Trivia
Irv is the only ibex in Zootopia: Crime Files.
Gallery