This article is about Fru Fru's unborn daughter. You may be looking for the movie's protagonist.
"I'm gonna name her Judy!"
―Fru Fru announcing her future daughter's name
Judy is a female Arctic shrew who is to be the daughter of Fru Fru, the granddaughter of Mr. Big, and the goddaughter of Judy Hopps in Zootopia. Fru Fru is still pregnant with her as of the film's conclusion.
Role in the Film
Judy is mentioned near the ending of the film, when Duke Weaselton is being interrogated by Judy Hopps and Nick Wilde in Mr. Big's office.
Duke questions Mr. Big as to why he is working with Judy Hopps, reminding the crime boss that she is a cop, and Mr. Big adds that she is also the godmother to his future granddaughter.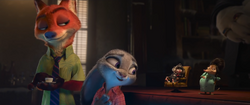 Fru Fru then enters and announces that she is going to name her daughter "Judy", after Judy Hopps, to which the flattered rabbit replies, "Awww!" and her father chuckles in happiness.
During Gazelle's concert, Fru Fru can still be seen pregnant with her.
Community content is available under
CC-BY-SA
unless otherwise noted.