"Jumbeaux's Café is set up to cater primarily to elephants. Everything is jumbo-sized. It's an 1890s-style ice cream shop with pachyderm motifs, from the Egyptian-style frieze outside to the elephant faces, ears and trunks in the decor."
Jumbeaux's Café is an ice cream parlor and café owned by Jerry Jumbeaux, Jr. in Zootopia. It is primarily a café for elephants and other large animals.
Development
When asked about the making of dairy products in Zootopia, director Byron Howard replied that "there are cheeses and ice creams and other products made from soy and rice".[1]

Role in the Film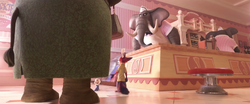 Pretending to be a father and son, Nick Wilde and Finnick enter the parlor, hoping to obtain a Jumbo-pop to use for their pawpsicle scheme. However, Jerry refuses to serve them due to them being foxes, and he even shows them the classic sign that says: "We reserve the right to refuse service to anyone".
Judy Hopps, believing the foxes' act, notices that the elephant employees are using their bare trunks to handle their food, and blackmails Jumbeaux into selling the two a Jumbo-pop, informing him that scooping ice cream with an un-gloved trunk is a "class 3 health violation" and threatening to report this.
Judy pays for the Jumbo-pop herself when Nick claims he forgot his wallet. Nick and Finnick then bid Judy goodbye and head to Sahara Square to melt the Jumbo-pop and use the juice to make their pawpsicles.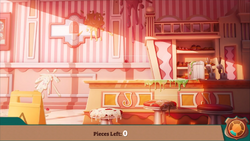 In "Melting Messes", the second case of the early version of the game, Jerry's café is vandalized. Judy and Nick are given the assignment to find and arrest the vandal responsible.

Known Menu Items
Food
Junior Sundae[2]
"Jumbo" serving of ice cream; available in vanilla, chocolate, and strawberry flavors[3]
Chocolate peanut super sundae [4]
Mastodon Milkshake
Leaves, Nuts-n-Berries (ice cream topped with the previously listed items)
Pistachio milkshake[6]
Jalapeño milkshake[7]
Toppings
Employees
| | | |
| --- | --- | --- |
| Unnamed elephant | Ice cream handler | |
Gallery
References
Community content is available under
CC-BY-SA
unless otherwise noted.