"I think I was eight...or maybe nine, and all I wanted to do was join the Junior Ranger Scouts. So, my mom scraped together enough money to buy me a brand new uniform because by God I was gonna fit in, even if I was the only predator in the troop - the only fox."
―Nick Wilde recalling his childhood
The Junior Ranger Scouts is a group of young prey mammals in Zootopia that is similar to the Boy Scouts. The film-specific troop is called Pack 914.
Role in the Film
The group is first mentioned by
Nick Wilde
around the middle of the film as Nick tells
Judy Hopps
about his childhood. As a kit, Nick wanted nothing more than to be a scout, so his
mother
"scraped together" enough money to buy Nick a brand new uniform.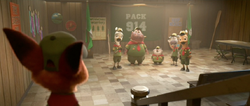 In a flashback to his childhood, one night, Nick heads to a Scout Meeting for his initiation with the other members of Pack 914 (all of which are prey animals), only to be roughly bullied and muzzled by them and their self-spoken, prejudiced leader on account of him being a fox.
After Nick breaks free of their bullying and runs outside to escape, he removes the muzzle and breaks down in tears, his dream of fitting in crushed.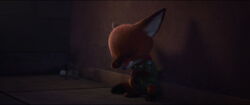 As a result of his unpleasant experiences with the Scouts, Nick develops a triggering fear of muzzles and dislike towards prey and bigoted mammals.
In the present, he states to Judy that he also vowed to never expose his true vulnerability to others and came to believe that no matter where he went or what he did, no one would ever see him as anything but sly, vile, and untrustworthy due to him being a fox. Thus, he resolved to live out the "sly fox" stereotype.
Members
Trivia
A small group of scouts can be seen briefly when Judy Hopps first comes out of the Zootopia Central Station.[1]
Interestingly, most of the Junior Ranger Scouts seem to be wildebeests.
In addition to the Junior Ranger Scouts, there are also the Bunny Scouts, as mentioned by Yax.
Gallery
Videos
References
Community content is available under
CC-BY-SA
unless otherwise noted.