"You know, half the time I can't even see what I'm doing. When one of my tricks works out, it really IS magic!"
―Karl, Abracadabra
Karl is a male koala in Zootopia: Crime Files. He is a rival magician of Sebastian who is suspected of sabotaging Sebastian's act. He appears in Case 12.
Physical Appearance
Karl is a gray-furred koala with a cream-colored muzzle and eye rings. He has large, furry ears- each about the size of his head- and a bulbous black nose. His outfit consists of a white shirt, a blue sequined vest, and a red bow tie. His eyes are brown.
Role in the Game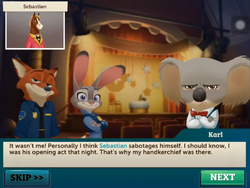 Judy Hopps and Nick Wilde find a handkerchief embroidered with the name "Karl" backstage, so they go to question him. When asked, Karl says that he believes that Sebastian sabotaged himself. He adds that his handkerchief was found in the auditorium because he was there on opening night.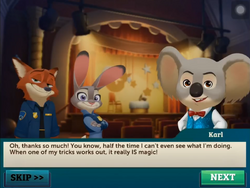 Later, Judy and Nick find a freelance opening act contract that is signed by Karl, so they question him about it. Karl explains that he only took the gig to subsidize his gambling habit, but otherwise he'd never work for Sebastian. He then advises that Judy and Nick search backstage, which they do.
After the case is solved, Judy and Nick return to Karl, who asks them to find his missing glasses. The pair comply, but Nick accidentally steps on the glasses while looking for them. Luckily they are able to fix them and take them to the lab to analyze to confirm from Clawhauser that they belong to Karl. Later, Judy and Nick return the glasses to Karl, who thanks them. He adds that he can't see what he's doing half the time and when one of his tricks works out, it really is magic.
Trivia
Karl bears some resemblance to Buster Moon, the protagonist of Illumination's Sing.
Karl and Katee share the same character model.
Gallery