This article is about the porcupine from Zootopia: Crime Files. You may be looking for the polar bear from the film.
"Ooo boy, this will NOT make my mother happy."
―Kevin
Kevin is a male African crested porcupine orderly in the game Zootopia: Crime Files. He is a suspect in the fourth case in the game, Missing Opossum Report.
Physical Appearance
Kevin is a black-furred porcupine with off-white quills that cover the back of his body. He has a gray muzzle and a large pink nose, as well as brown eyes. His outfit consists of a white shirt, a gray vest, a black tie, and a pale blue apron. Kevin usually has an annoyed expression on his face and has a worried expression whenever he mentions his mother.
Role in the Game
Judy Hopps and Nick Wilde search the hospital room for the body of Victor the opossum. They ask Kevin, the last person to see Victor, if he saw anyone suspicious. He says he hasn't, but they still see him as a suspect and he freaks out, saying this will not make his mother happy.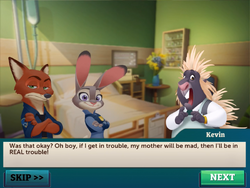 Later, they check the hospital room and see paw prints on a train schedule. They analyze the prints and find out they belong to Kevin. They question him about the schedule and Kevin says that Victor had it when he checked in, along with a receipt and he held them for safe keeping. Kevin freaks out again and asks if this was okay to do, saying that if he gets in trouble, his mother will be mad at him, and then he will be in "real trouble". Judy assures him that she and Nick will take the receipt and promise not to tell his mother.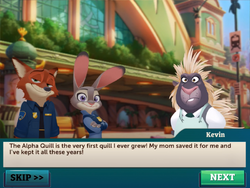 After the case is solved, Kevin asks Judy and Nick to retrieve his "Alpha Quill", saying that he left it in the hospital, and the police won't let him in. Nick says they will look for it if Kevin tells them what an "Alpha Quill" is. They find the broken quill, and fix it before returning it to Kevin. Kevin finally reveals that this "Alpha Quill" is the very first quill he ever grew that his mother saved for him, and he has kept it ever since. Nick finds this "touching and weird".

Trivia
Kevin and Reuben share the same character model.
Gallery