"I'm not jealous of them! If they want to RUIN THEIR LIVES, that's their choice!"
―Kris, I Do!
Kris is a female otter in Zootopia: Crime Files. She is suspected of robbing a couple's wedding rings. She appears in Case 15.
Physical Appearance
Kris is a slim, brown otter with green eyes. Her visible outfit consists of a pink dress and a necklace with a small yellow ball. She wears a pink flower tucked behind one ear.
Role in the Game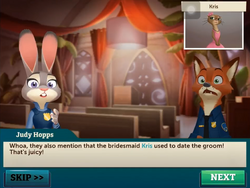 While searching for the wedding couple's wedding rings at the Wee Classy Chapel, Judy Hopps and Nick Wilde find torn wedding vows. They piece it together and it reads, "Do you promise to love me in a tender fashion, or instead will you send me back to the sender?" Nick figures they're trying hard to avoid copyright infringement. Judy also mentions in the vows that the bridesmaid, Kris, used to date the groom, and finds this information juicy. Nick sees it as a possible motive and decides they talk to Kris.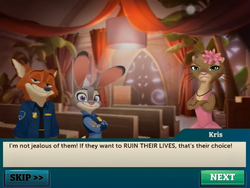 Approaching Kris, Nick says she used to date the groom, she's the bridesmaid, and the wedding rings go missing, and asks if she's suspicious. Upset, Kris says she's not jealous of them, but adds that it is their choice if they want to "ruin their lives". She also says there's another wedding officiant named Leonard, who was hanging around the wedding, looking shady, and suggests they talk to him. Judy says they will.
In the chapel, Judy and Nick find a snapped bouquet. Judy knows that it must have been snapped in a fit of rage. After fixing it, they send it to the lab for prints. Clawhauser, touched of the flowers they send him, says that it has Kris's prints all over it. Nick suggests they talk to Kris again, and knows that being the bridesmaid at the wedding of her old boyfriend did not make her happy. Judy tells Kris about the bouquet and asks if she snapped it in a fit of rage. Kris says she snapped it in a "fit of joy". Still upset, Kris laments it should have been her wedding and she was left out in the cold again. She adds that she's always cold, prompting Nick to try to comfort her.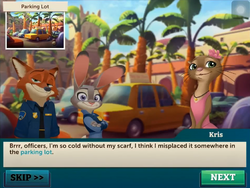 After the case is solved, Kris tells Judy and Nick she's cold without her scarf and she misplaced it in the parking lot. Judy says they'll find it for her and warns her she may not want it after it's been in the parking lot. They find the scarf all dirty, so they clean it up, and make it neck-worthy. They return the scarf to Kris and she thanks them. Then, Kris flirts with Nick, saying that he is "awfully cute" and she is "awfully single". She asks if he would call her sometime, much to Nick's surprise.

Gallery
Community content is available under
CC-BY-SA
unless otherwise noted.