"My dear police officers, I do not stoop to such trivial things. I am not an interior designer, I am a thief! Er, I mean... successful entrepreneur. Forget that "thief" thing."
―Le Rouge, The Big Catch
Le Rouge is a male red panda in the game Zootopia: Crime Files. He is suspected of vandalizing the Natural History Museum. He appears in Case 6.
Physical Appearance
Le Rouge is a lithe red panda with burnt orange fur, which includes cream-colored and brown markings. He has fox-like ears, black eyes, and a fluffy ringed tail that darkens in color as it reaches the tip. For his outfit, Le Rouge wears a black sweatshirt with a purple flower lapel and he carries a fanny pack.
Role in the Game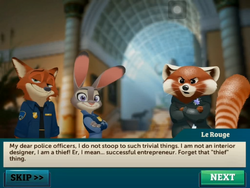 While searching for the suspect who vandalized the Natural History Museum by turning all the dioramas into swamplands, Judy Hopps and Nick Wilde listen to a weasel named Dribs confess to vandalizing the museum. Dribs says that a master thief named Le Rouge and a porcupine named Reuben were in on it as well. When questioning Le Rouge, they all agree that Dribs is nuts. Le Rouge says he doesn't stoop to such trivial things. He said he is not an interior designer, he's a thief, but strikes that, saying successful entrepreneur. Judy comments a good save, then smells something stinky, asking him that he's wearing perfume. Le Rouge responds he likes to be "aromatic when romantic". Judy dismissed him, saying she heard more than enough.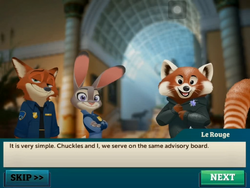 Later, after questioning criminal mastermind, Chuckles, Judy and Nick find a receipt for consultation services he dropped and that Chuckles paid it to Le Rouge. They approached Le Rouge and Judy asks why was he hired by Chuckles for consultation services. Le Rouge says that he and Chuckles serve on the same advisory board. Nick asks about it, but Le Rouge says if they're not on the advisory board, he cannot tell them and he bids them adieu.

Trivia
Gallery
References