| | |
| --- | --- |
| | This article is or has been the Featured Article on the Zootopia Wiki! |
The Lemmings are businessmammals in Zootopia. They work at the Lemming Brothers Bank.
Role in the Film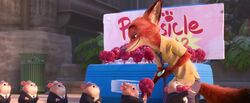 The lemmings first appear near the beginning of the film at Zootopia Central Station, sliding down hamster tubes on their way to work.
Later in the film, they are seen leaving the bank and buying Nick Wilde's pawpsicles, even though some left. After consuming them, they throw the sticks away, which are collected by Finnick.
Trivia
In an early version of the film, there were two gerbil "jerk" characters identical to the lemmings that liked to antagonize Nick Wilde by running over his tail with their car, causing Nick's tame collar to buzz him.
The promotional site, Visit Zootopia, refers to one of the lemmings as "Reggie".
Gallery