"DUDES, no way! Lucius is always fit AND well-dressed! Lucius has to be for Lucius' training videos!"
―Lucius, Groundhog Daze
Lucius is a male otter in Zootopia: Crime Files. He is suspected of repeatedly robbing Phil's pawn shop. He appears in Case 11.
Physical Appearance
Lucius is a broad-chested otter with brown fur and a cream-colored underbelly. He has green eyes and a large nose, as well as a few whiskers. His visible outfit consists of a yellow tank top and a black sweatband on his right wrist.
Role in the Game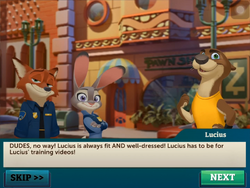 Judy Hopps and Nick Wilde analyze a piece of black fabric that was stuck to Rolfina's foot, and discover that it came from a black bodysuit. Phil tells them that Lucius was wearing one, so they talk to him. Nick asks Lucius if the black fabric is part of his fitness suit. Lucius denies it, saying he's always fit and well-dressed, especially for his training videos. Judy questions this and Lucius says he was in Phil's pawn shop looking for a guitar to play in one of his training videos. He adds that he plays guitar, then sneezes. Judy sees that Lucius has allergies and that everyone likes the same thing. She suggests they look at the counter for better clues.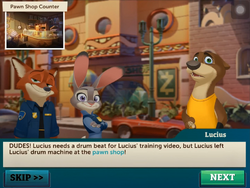 After the case is solved, Lucius tells Judy and Nick he needs a drum beat for his training video but he left his drum machine in the pawn shop. They find a circuit board which is part of the drum machine. They put the drum machine together, but it appears to be dirty, so they clean it up. Lucius thanks them for returning his drum machine and asks them if they want to be in his training video. Judy says it's a different kind of beat than what they're used to and asks for Nick's opinion. Nick declines, saying he "marches to his own drum".
Trivia
Lucius speaks in the third person.
Gallery