"You wanna find Otterton, talk to the driver of the car. His name is Manchas. Lives in the Rainforest District. Only he can tell you more."
Manchas' tree house is a location in the Rainforest District. It is the home of Renato Manchas.
Role in the Film
Taking on Mr. Big's suggestion, Judy Hopps and Nick Wilde visit Manchas' house to interrogate him about what happened to Emmitt Otterton. When they arrive, Judy rings the door bell and gently asks him about what happened to Otterton. Manchas peeks out from a crack in his door and responds to Judy's question by saying that they should be asking what happened to him and shows them that his right eye is badly scarred. He tells them that Otterton went savage and attacked him while being driven to Mr. Big's house.
Manchas also recalls that Otterton kept yelling about "the Night howlers". Nick, thinking quickly, lies that he and Judy are there to talk to Manchas about the Night howlers. Going along with it, Judy calmly tells Manchas to open the door to tell them what he knows and they will tell him what they know.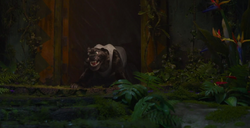 Manchas hesitantly agrees to let them and unlocks the door, but suddenly screams and disappears from view. Judy pushes the door open, where they find Manchas writhing on the floor. The jaguar snarls at Judy and Nick, indicating he's going savage, and then proceeds to chase them through the Rainforest District.

Residents
Gallery