"No, friend, the only thing I saw when I left was the beautiful tranquility of peace and understanding."
―Monty, It's Only Natural
Monty is a male moose in Zootopia: Crime Files. He is suspected of vandalizing The Mystic Spring Oasis. He appears in Case 10.
Physical Appearance
Monty is a moose with dark brown hair. He has a large nose typical of moose, and a pair of large antlers. His outfit consists of a red shirt with black sleeves, a matching baseball cap with a red brim, and a beaded necklace. He has brown eyes.
Role in the Game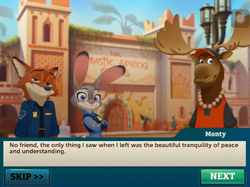 Judy Hopps and Nick Wilde find a signout sheet for The Mystic Spring Oasis with Monty's name on it, showing that he was one of the last visitors to sign out. Nick asks Monty if he saw anyone putting up anti-health club posters, but the moose initially says no, but adds that he did see Bridget the badger. Excited, Judy declares that they will speak to Bridget next.
Later, Detective Oates suggests that Judy and Nick speak to Monty again, so they do; Judy points out that the moose was the last one to leave the Oasis and asks him why. Monty tells them that he has no idea why the Oasis smells like skunk and adds that he is not aware of any skunk members of the Oasis and he is a member of the club.
Later, Judy and Nick find an encrypted note and send it to the lab to analyze it. Officer Clawhauser tells Judy and Nick that the encrypted note belongs to Monty and Judy suggests that they talk to him again. Monty explains that the note is from his girlfriend, who sends him encrypted notes so his mother won't know, because she doesn't like her. Judy, surprised at this answer, thanks Monty for the information.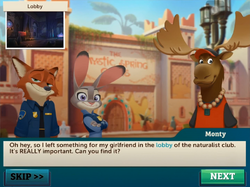 After the case is solved, Monty tells Judy and Nick that he lost a gift for his girlfriend in the lobby of The Mystic Spring Oasis and asks them to find it. Upon searching the Oasis, Judy and Nick find a bouquet of flowers and return them to Monty, who explains that the flowers are his and his girlfriend's lunch, as well as his girlfriend's favorite flavor, and thanks the pair.

Trivia
Monty is currently the only moose to be seen in Zootopia: Crime Files to date.
Gallery
Community content is available under
CC-BY-SA
unless otherwise noted.