Mr. Big's house is a house located in Tundratown. It is occupied by Mr. Big, Fru Fru and Fru Fru's husband in Zootopia.
Role in the Film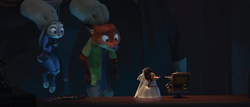 Near the middle of the film, while investigating Tundratown Limo Service, Judy Hopps and Nick Wilde are nabbed by Kevin and Raymond. They are taken via a limo to Mr. Big's home, and then into his office. Mr. Big himself confronts the pair, and Judy and Nick are nearly iced, but Fru Fru, Mr. Big's daughter, comes in just in time to recognize Judy.
Fru Fru tells her father how Judy saved her life, and Mr. Big softens and invites Judy and Nick to Fru Fru's wedding. There, Judy and Nick get information about Renato Manchas, and they leave to question him next.
Later, during the climax of the film, Judy and Nick take Duke Weaselton to Mr. Big's home for interrogating, and Mr. Big threatens to ice him. Frightened for his life, Duke gives Judy and Nick the information they need.

Residents
Trivia
According to the clock present in Mr. Big's home, the scene where Judy and Nick are taken to Mr. Big took place at around 8:24 PM.[1]
On the mantle underneath the photo of Gram-mama is an autographed photo of Jerry Vole.
Gallery
References