"I have no memory of this beaver."
―Nangi when questioned about Emmitt Otterton
Nangi (नंगी) is a female Indian elephant and a minor character in Zootopia. She is a yoga instructor at The Mystic Spring Oasis.
Physical Appearance
Nangi is an elephant with dusty-gray skin and blue eyes. She has stubby tusks, as well as purple eyeshadow and mehndi tattoos on her stomach and trunk. She wears nothing aside from a gold beaded bracelet on her wrist.
Personality
Nangi appears to be very dismissive, apathetic, and disagreeable, especially in her conversation with Yax, Judy Hopps, and Nick Wilde. She speaks in a way which seems to suggest that she does not care about what is going on around her. Whether or not she could actually remember anything about Mr. Otterton, she stated that she didn't, suggesting that she simply was disinterested in the conversation.
Role in the Film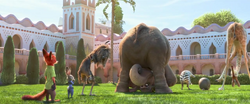 Nangi is at the Mystic Springs Oasis teaching yoga when she is approached by Yax, as well as Judy Hopps and Nick Wilde, asking for information regarding missing otter Emmitt Otterton, who frequented the establishment and was instructed in yoga by Nangi.
Either by choice or by genuine forgetfulness, Nangi states that she has no recollection of Emmitt, nor any details regarding his most recent visit to the Oasis, allowing Yax to unwittingly reveal all of the information Judy and Nick need.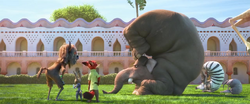 With the information obtained and the duo able to follow the lead - including the license plate number of the car Emmitt was last seen getting into - Judy and Nick leave Nangi and Yax to their business.

Role in Literature
When Judy Hopps and Ernie pass the The Mystic Spring Oasis on the Zootopia Express, Nangi can be seen doing yoga.
Relationships
Yax is the owner of the Mystic Springs Oasis, a naturalist establishment frequented by animals who want to get closer to nature, specifically by refusing to wear clothing. Nangi teaches yoga at the oasis, so it can be assumed that Nangi and Yax either know each other well or have a passing acquaintance. Yax appears to respect Nangi greatly, believing her to have an excellent memory due to her being an elephant. His memory, however, proved to be better and more helpful than hers. Whether or not their friendship is mutual is unknown.
Emmitt Otterton was instructed in yoga by Nangi regularly before he disappeared. Nangi states that she has no recollection of him, so it can be assumed that any relationship between them is minimalistic.
Trivia
In Hindi and Urdu, Nangi means "naked female".
Nangi was originally going to be male.[1]

Every book based on Zootopia spells "Nangi" as "Nanga" because the latter means "naked male", and the books incorrectly identify her as male.

In Judy Hopps and the Missing Jumbo-Pop, Nangi has brown skin instead of grey.
Gallery
References
Community content is available under
CC-BY-SA
unless otherwise noted.