"Travel back in time as you explore millions of prehistoric skeletons, artifacts and fossils at the Natural History Museum."
The Natural History Museum is a building in Savanna Central filled with exhibits and fossils from the times before Zootopia was created. Among these exhibits are several dioramas of predators hunting prey animals, in which the latter seem to have started hunter-gatherer groups.
Role in the Film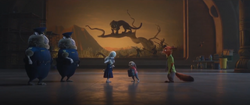 Judy Hopps and Nick Wilde cut through the museum to try and outrun Dawn Bellwether and her ram henchmen. Carrying a case containing Doug's dart gun and its night howler toxin ammo, Judy and Nick make a dash through the museum to reach the Zootopia Police Department.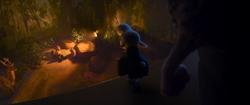 However, Judy accidentally cuts her leg open on a mammoth exhibit's tusk, putting them at a halt. After Nick uses his Junior Ranger Scouts neckerchief, which was holding blueberries at the time, to bandage up Judy's wound, the two place a stuffed rabbit mannequin to temporarily distract their pursuers and make a run for the exit. After being rammed into a circular bird's eye view exhibit, the two are talked down upon by Bellwether who shares her plans of turning all predators savage, thus keeping her in power.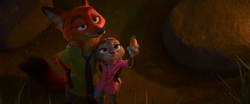 Having now reclaimed her evidence, Bellwether fires a pellet of night howler serum, later revealed to actually be a blueberry, at Nick. Playing along, Nick pretends to turn savage and "attacks" Judy. After he pretends to kill Judy, Bellwether furiously threatens to frame Judy and Nick for her crimes, like she framed Mayor Lionheart, but Judy reveals she has been recording everything that Bellwether had said with her Carrot pen, giving them the evidence they need for Chief Bogo and the ZPD to send her to prison and reunite the predator and prey animals.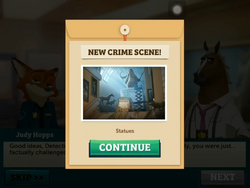 In the sixth case of the game, the exhibits in the Natural History Museum were altered by a vandal, being made to look like all historical events took place in swamplands as a foreshadowing of their project.

Employees
Trivia
There are many similarities with the real life Natural History Museum in New York City.
When Judy pretends to be killed by Nick, she acts out the same sequence from her play from the opening scene of the film.
The fake deer that Nick shreds in the climax is a model of the character Bambi, from the Disney film of the same name.
The museum is closed to the public due to renovations at the time of the film.
Gallery
See also
Community content is available under
CC-BY-SA
unless otherwise noted.