"Are you serious? You think just because I'm a wolf I'm connected to every crime figure in Zootopia?"
―Nero, It's Only Natural
Nero is a male wolf in Zootopia: Crime Files. He is suspected of vandalizing The Mystic Spring Oasis. He appears in Case 10.
Physical Appearance
Nero is a tall wolf with thick, cream-colored fur. He has a white muzzle, a large, black nose, and brown eyes. His outfit consists of a green sweater, black glasses, and a beaded necklace.
Role in the Game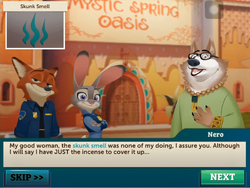 Judy Hopps and Nick Wilde find dusty inventory boxes near the entrance of The Mystic Spring Oasis. They are revealed to be inventory containers, and are sent to the lab for analysis. Officer Clawhauser tells Judy and Nick that the boxes contain incense, but when they search through them they find that the incense has been destroyed. Judy wonders who would destroy incense, and Nick tells her that an incense sales mammal, named Nero, sells incense to the club and he thinks they should talk to him. Judy asks Nero if the skunk smell was his handiwork, since he's in the smells business, and Nero replies that it was not his work and he says he has the most organic incense to cover it. Then he realizes he sold it all to Carla, who is a fan of incense. Judy suggests they talk to Carla, and she and Nick take their leave to search the lobby of the Oasis.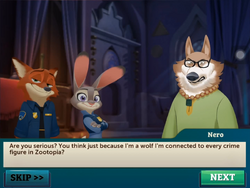 Judy and Nick find an oil soaked note in the lobby. The lab analyzes it, and Clawhauser says it's from Chuckles. While mid-impression of Chuckles, Clawhauser says that once the Mystic Spring Oasis is closed, he'll swoop in and take the land. Nick wonders if the note came from Nero and his collection of fragrances and decides that they should talk to him again. Judy asks Nero about the note and Chuckles. Offended, Nero asks if they think he's connected to every crime figure in Zootopia just because he's a wolf. Nick responds, "When you put it like THAT..."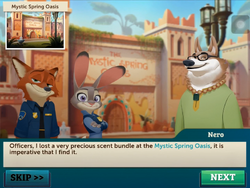 After the case is solved, Nero tells the pair that he left a "scent bundle" at the Mystic Oasis and asks them to find it. Judy and Nick find a herb and flower bundle and wonder if that counts as a scent bundle. They dig through and see that there is incense in the middle of the scent bundle. They return the bundle to Nero, who thanks them. Nick wonders how he does all those scents together and says he could only do flowers and herbs. Judy tells Nick she's relieved.

Trivia
Nero and Wilfred share the same character model.
Gallery
Community content is available under
CC-BY-SA
unless otherwise noted.