"What can you tell us about the animals that went savage?"
―One of the reporters

The News reporters are reporters for various news networks in Zootopia.
Role in the Film
The News reporters arrive at the ZPD to interview Judy Hopps about the missing mammals she found. They gather around the podium where Chief Bogo addresses them before introducing Judy.
A beaver reporter asks Judy what she can tell them about how the animals have gone savage, to which Judy replies that they are all of different species.
Two other reporters, including the secretly undercover Doug Ramses, ask about the connection between the savage animals, and Judy confirms that all the animals that went savage are predators, going on to say that their savagery might be due to a "biological component in their DNA". When asked to elaborate, Judy explains that she believes that predators are reverting back to their "primitive, savage ways" from when they used to hunt and eat prey animals. When asked if it will happened again, Judy says that it is possible, they need to be vigilant, and the ZPD is here to protect.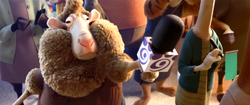 The now frightened reporters ask what is being done to protect the public, with one reporter even suggesting a mandatory quarantine on predators, but Assistant Mayor Bellwether comes to take an overwhelmed Judy away and declares the interview over.
Shortly after, when Judy tries to catch up with an angry Nick Wilde, the reporters surround her for more questions. A reporter asks if she was just threatened by "that predator". Judy tries to explain that Nick is her friend, but one of the reporters misinterprets this as meaning that mammals can't even trust their own friends. They continue to ask her more questions about the incident before the scene shifts to a news broadcast from ZNN.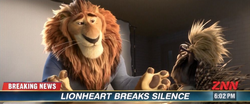 At the end of the film, the reporters gather and film the arrest of Bellwether. Quilda, one of the reporters, interviews Mayor Lionheart about Bellwether's conspiracy, the savaged mammals, and how he kidnapped them. Lionheart denies knowing of Bellwether's scheme, but admits to kidnapping and imprisoning the savage mammals, saying he did so with good intentions.
News Channels Represented
9 News
Action Gnus
Other unnamed channels
Gallery
Community content is available under
CC-BY-SA
unless otherwise noted.