"Atten-hut!"
―Officer Higgins
Officer Higgins is a male hippo and a member of the Zootopia Police Department in Zootopia.
Role in the Film
Higgins is first seen near the beginning of the film on Judy Hopps' first day on the force checking a clipboard. He announces Chief Bogo's arrival and sits down.
He is then assigned to Tundratown, along with officers Officer Snarlov and Trunkaby, to search for the mammals that have gone missing there.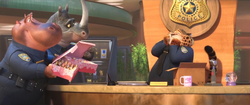 Near the end of the film, when Officer Clawhauser returns to his position at the front desk, Higgins and Krumpanski happily welcome him back with boxes of donuts.
During Nick Wilde's first day on the force, Higgins, Wolfard, and Snarlov are seen to put on disguises and leave to do some undercover work, Higgins' disguise consisting of only a fake mustache.
Trivia
After he announces Chief Bogo's entry, Higgins steps to the side to stand near him. However, a split second later, he is sitting in a chair behind Judy. This fact is confirmed when Bogo calls on him. This is one of several mistakes in the film.
Gallery
Community content is available under
CC-BY-SA
unless otherwise noted.