"This is Officer McHorn, we got a 10-31..."
―Officer McHorn
Officer McHorn is a male rhinoceros and a minor character in Zootopia. He is a police officer working at the Zootopia Police Department.
Personality
Officer McHorn seems to be a gruff, old hand on the force and takes no pleasure in Judy's enthusiasm as seen by the way he rolls his eyes when she asks if he's "ready to make the world a better place". Two fellow officers sitting next to him, offer wry smiles at Judy's attempt to engage the rhino officer.
However, McHorn, does respond to her invitation for a fist-bump even though he ends up just pushing her away because of their size difference.
As such, he comes across as fairly distant and unlikable, though to what extent this is true is unknown.
Role in the Film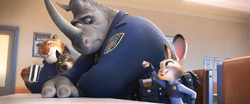 McHorn only has a minimal role in the film. He is seen during Judy Hopps' first roll call, as he is sitting next to her for a majority of the scene. She offers to fist-bump him, but their size difference results in her being pushed away and shaking out her hand.
Shortly after, he is assigned by Chief Bogo to search for the missing mammals in Sahara Square with Officers Rhinowitz and Wolfard.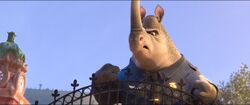 The next day, as Judy is chasing Duke Weaselton, McHorn's police car skids to a stop just in front of the weasel, and Weaselton tries to use this as an obstacle to stop Judy from continuing the pursuit. As McHorn radios ZPD headquarters, Judy simply hops over the vehicle and continues to chase the thief.
As she impulsively follows Weaselton into Little Rodentia, McHorn yells "Hey meter maid, wait for the real cops", indicating that he's aware of her assignment to parking duty and feels she is a meter maid with delusions of grandeur.
Trivia
When McHorn steps out of his vehicle to report the "10-31", his name badge reads "Krumpanski", which belongs to another Rhino ZPD officer.
Gallery