"This is Officer McHorn, we got a 10-31..."
―Officer McHorn
Officer McHorn is a male rhinoceros and a minor character in Zootopia. He is a police officer working at the Zootopia Police Department.
Personality
Officer McHorn seems to show disinterest in those who he deems his lessers, including Judy Hopps. This manifests itself in the way in which he dismisses Judy upon her introduction, as well as when she enters Little Rodentia to chase Duke Weaselton, telling her to "wait for the real cops", but the rabbit refuses to wait.
While it could be argued that this was supposed to be to keep Judy from harm, or even to make sure that Weaselton actually was caught, if she actually heeded his warning, then Weaselton easily could have escaped through Little Rodentia, or worse, larger police officers would have caused more destruction in the rodent town.
This shows a particularly brash and proud side to his personality. As such, he is portrayed as fairly distant and unlikable, though to what extent this is true is unknown.
Role in the Film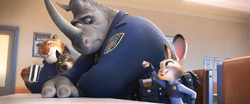 McHorn only has a minimal role in the film. He is seen during Judy Hopps' first roll call, as he is sitting next to her for the majority of the time there. She attempts to fist-bump him, but he uses this as a means to push her away.
Shortly after, he is assigned by Chief Bogo to search for the missing mammals in Sahara Square with Officers Rhinowitz and Wolfard.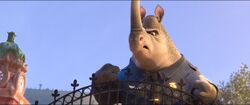 Later on, as Judy is chasing Duke Weaselton, McHorn's police car skids to a stop just in front of the weasel, and Weaselton uses this as an obstacle to stop his pursuer from continuing the pursuit. McHorn radios the ZPD headquarters, but Judy continues to chase the thief.
As she enters Little Rodentia, being the only officer that can fit through the small gate, he tells her to wait for "the real cops", as he doubts her ability or judgment because she is new to the force.
Trivia
Gallery