"First, we need to acknowledge the elephant in the room. Francine... happy birthday."
―Chief Bogo to Pennington
Officer Francine Pennington[1] is a female African elephant who works for the Zootopia Police Department in Zootopia.
Role in the Film
Francine appears in the bullpen when Judy Hopps arrives for her first day as a police officer.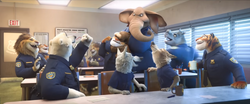 She appears nervous when Chief Bogo says they need to address the 'elephant in the room', but sighs in relief when she learns Bogo just wants to wish her a happy birthday. In celebration, Officer Jackson starts playfully punching her side, prompting her to pick him up and give him a noogie.
When Judy informs the ZPD of the missing mammals at the Cliffside Asylum, she and the other officers arrive for a police raid on the asylum.
Near the end of the film, she and the rest of the ZPD come to the Natural History Museum to arrest Assistant Mayor Bellwether.
Trivia
Francine has a line, but it is unknown who did her voice.
There is a mistake in film regarding the number of elephants that were supposed to be present in the bullpen scene. Either there is only one elephant whose uniform changes mid-scene and is wearing a name badge saying "Pennington" but Bogo incorrectly calls her Trunkaby. Or there were supposed to be two elephants, Pennington and Trunkaby, each wearing different uniforms but the animators did not consistently render Trunkaby.
When Judy first enters the bullpen, there is an elephant wearing a t-shirt/black vest watching Officer Andersen arm wrestle Officer Johnson and laughs when Andersen pins Johnson's arm to the table. Because of the uncertainty regarding the number of elephants in the bullpen, it is unknown if this elephant is Trunkaby or Pennington.
Gallery
Videos
References