Officer Bob Trumpet is a male elephant in Zootopia. He is a member of the Zootopia Police Department that is assigned to Precinct 1.
Role in the Film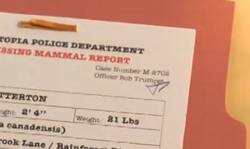 He is the initial officer that created the case file for Emmitt Otterton, one of the 14 mammals that went missing during the Bellwether Scandal. His name and badge number can be seen on the top right of Otterton's file.
He is identified in a deleted scene, which displays pictures on his computer. Said pictures show evidence that he is married to an elephant that looks just like Francine Pennington. More pictures show that he has a child, as does a note on the wall that says "DAD".
Officer Trumpet is seen throughout the movie, usually in the companionship of Officer Francine or his child. He can be seen walking by in the very first trailer for the movie.
He was possibly at the police training and was also seen in the background while Judy Hopps was chasing Duke Weaselton. Trumpet was possibly at Nick's graduation ceremony with Francine.
Trivia
In a deleted scene, Trumpet has a framed picture of concept art of himself. [1]
Trumpet is one of two known officers with the first name "Bob", the other being Officer Johnson.
Gallery
References