"I'd LOVE to be Karl's assistant! He picks out good costumes, which I can't do because I'm colorblind."
―Pamela, Abracadabra
Pamela is a female red panda in Zootopia: Crime Files. She is Sebastian's magician assistant, suspected of sabotaging his latest show. She appears in Case 12.
Physical Appearance
Pamela is a red panda with red fur. She has a white muzzle, ears, and cheeks, as well as white rings on her long tail. Her visible outfit consists of a coral pink jacket, a white shirt, matching gold sequin bracelets, and turquoise eyeshadow.
Role in the Game
Due to the fact that Pamela serves as The Amazing Sebastian's assistant, Judy Hopps and Nick Wilde question her. Judy asks Pamela if she thinks Sebastian's act was sabotaged, and she replies that she believes no one could hurt Sebastian's act more than himself. She adds that if she hadn't signed a one-year contract with the magician, she would quit. She then suggests that the pair talk to Wanda, a "weirdo magician groupie", who is a big fan of Sebastian and attends every show.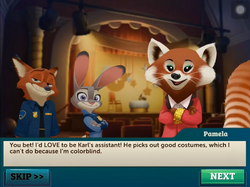 Later, Judy and Nick return to Pamela with a silk handkerchief belonging to Karl, a rival magician. Nick asks Pamela if she knows Karl, and she confirms that she does. She claims him to be more amazing than Sebastian, and exclaims that she would love to be his assistant because he picks out the best costumes, which she can't do because she's colorblind. She then leaves to play some slots.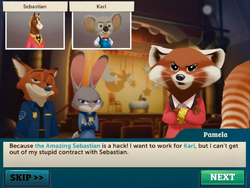 After getting some case-closing information from Wanda, Judy and Nick go to arrest Pamela for sabotaging Sebastian's act. Pamela explains that she committed the crime because she wants to work for Karl, but she can't leave because of her contract with Sebastian. She figured that if Sebastian's act would end, her contract would as well. Following a few smart remarks from Nick, Pamela is arrested.
Trivia
Gallery
References