Phyllis is a female squirrel in Zootopia: Crime Files. She is suspected of making a large purchase at Vermin's with a stolen credit card. She appears in Case 7.
Physical Appearance
Phyllis is a slender squirrel with brown fur and green eyes. Her muzzle, chest, and the underside of her tail are cream-colored, as well as the fur around her eyes. Her outfit consists of a purple dress, lavender jacket, and a small gold necklace. She has pale blonde hair cut in a bob.
Role in the Game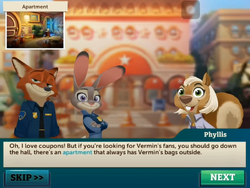 While searching for clues of the suspect who made a large purchase at Vermin's with a stolen credit card, Judy Hopps and Nick Wilde find extremely expensive and expired coupons that were covered in cement in a trash bag. They learn from a construction worker, Nolte, that his landlord, Phyllis is a "die-hard couponer" and suggests they might be hers. They go to Phyllis and ask her if the Vermin's coupons are hers. Phyllis claims she loves coupons and says if they're looking for Vermin's fans, they should go down the hall to an apartment that always has Vermin's bags.
They search the tiny hallway, which is not easy, until they find the bags. They look into them and find a parker voucher. The lab analyzes the voucher and Clawhauser tells them that the apartment is the same geo-location from which it originated and the apartment is owned by Phyllis. They go to Phyllis again and Judy asks her about the parking voucher in the apartment from the time of the crime. Phyllis says she wish she could tell them who lives here, but it's being sublet and doesn't have any idea who the hoarder is.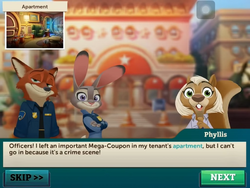 After the case is solved, Phyllis tells them that she left an important Mega-Coupon in her tenant's apartment but can't go in because it's a crime scene. Judy assures her they'll find the coupons as finding them is what they do best. In the apartment, they find a pile of coupons and suggest that the Mega-Coupon might be in it. They find the Mega-Coupon which is big and 99% off, which Nick says is the size of a normal coupon. Judy knows that Phyllis will be happy to be reunited with it. They return the Mega-Coupon to Phyllis and thanks them, knowing she'll be able to save so much. Judy says police are good at saving things and Nick adds especially saving things that save things and goes home.
Trivia
Phyllis and Rodney share the same character model.
Gallery