| | |
| --- | --- |
| | This article is or has been the Featured Article on the Zootopia Wiki! |
"The Rainforest District is as lush, green and beautiful as it is intriguing. With its constant mist, the air stays warm, humid and wet - just the way those who live there like it. Whether you explore the rainforest by car, on foot, by boat or from high above the treetops in a gondola, you're in for a treat."
The Rainforest District is a district for rainforest mammals in the city in Zootopia.
Description
The Rainforest District is one of the least-cultivated districts of Zootopia, containing large amounts of foliage and natural water features. The district also contains a vast network of sprinklers that spray water from above to give the environment a wet appearance. It has numerous means of transport, including zeppelins and a cablecar which leads to Savanna Central.[1] These are largely due to the impracticality of building roads on the extremely variable terrain of the district.
Partially divided by the rest of Zootopia with sheer cliffsides and large rivers, It is further divided into several smaller communities: Ficus Grove, The Canopy, Vine Country, and Muddy Swamp.
It is bordered in the north-west by the Canal District, north by the Meadowlands, Northeast by Tundratown, and from the East all the way to the south by Savanna Central.
Role in the Film
Judy Hopps passes through the Rainforest District on her way to Zootopia. Later, near the middle of the film, she and Nick Wilde attempt to interrogate Renato Manchas about night howlers, but Manchas goes savage. The jaguar chases Judy and Nick through the jungle and almost kills Nick, but Judy restrains him just in time.
Then, Chief Bogo and his officers arrive after Judy radioed them for help, but Manchas is no longer there.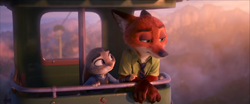 Bogo demands Judy's badge, but Nick sticks up for her, reminding the Chief that they still have ten hours left to solve their case. Judy and Nick then depart in a gondola that leads them through the canopy of the Rainforest District and back to Zootopia. Nick tells Judy about his childhood, then he spots the traffic cameras, knowing that they must have caught everything, including Manchas' disappearance.
Places of Interest
Inhabitants
Trivia
Tujunga Street is a reference to a warehouse owned by Disney which was used while the proper studios were being renovated.
According to The Art of Zootopia, the scene where Manchas goes savage was made dark and drippy to reflect Manchas' state of mind.
Map
(click on the map to know more)
Gallery
References