"Everywhere you look, vandals! I tell ya, this place ain't safe!"
―Rodney, Seeds of Doubt
Rodney is a male squirrel in Zootopia: Crime Files. He is an architect who is suspected of stealing the missing Jeweled acorn in Case 1 of the early version. In Case 2 of the updated version, he is a pawn shop owner who is suspected of vandalizing Flora & Fauna.
Physical Appearance
Rodney is a squirrel with dusty brown fur. He has a cream-colored muzzle and underside of tail, as well as a cream tuft of hair on the top of his head, and a pencil tucked behind his ear. His outfit consists of an orange shirt, and a pair of black-rimmed glasses, as seen in "Seeds of Doubt".
Role in the Game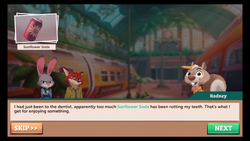 Rodney, along with Merle, is suspected of stealing the most valuable oak nut in the world, the "Jeweled acorn". When Judy Hopps and Nick Wilde deduce that the suspect who stole the missing acorn has cheek pouches, they decide to locate and question Rodney, as Nick mentions he saw a "twitchy-looking" squirrel with puffed-out cheeks.
Rodney informs them that he is a tree squirrel, and only ground squirrels have cheek pouches. He goes on to say how his puffed-out cheeks are a result of a visit to the dentist, as too much Sunflower Soda has been rotting his teeth.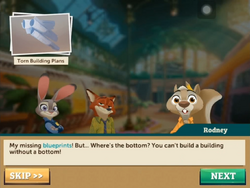 Later on, Judy and Nick check up on Rodney, who asks them to help find some blueprints that he was working on at the train station. The blueprints are revealed to have been torn up, much to Rodney's dismay.
When Judy and Nick find the missing pieces of the blueprints and return them to Rodney, he states that the blueprints are very important for reasons he is not at liberty to discuss. When asked what the blueprints are for, he yells at them that it is none of their business.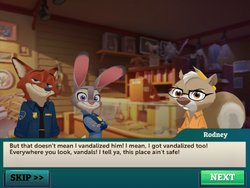 A suspect of vandalizing Flora & Fauna, Rodney is interrogated. He claims that his shop was vandalized too. While arresting him, Judy and Nick discover that Rodney was paid by a business company called Sequoia Towers to scare the owner out. He later asks if they have any peanuts.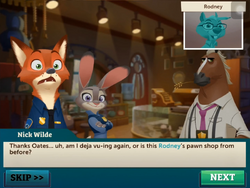 Even though, Rodney didn't make an appearance in the case, according to Judy, after Rodney was arrested, the pawn shop was bought by a groundhog named Phil and was relocated in Sahara Square.

Trivia
In the early version of the game, Rodney is an architect and a suspect of the missing jeweled acorn. In the updated version, he wears glasses and is a pawn shop owner that is a suspect of vandalizing Flora & Fauna.
Rodney is replaced by Dribs in the first case in the updated Android version of the game.
Rodney and Phyllis have the same character model.
Gallery
Community content is available under
CC-BY-SA
unless otherwise noted.