| | |
| --- | --- |
| | This article is or has been the Featured Article on the Zootopia Wiki! |
"If you're looking for excitement, glitz and glamour, then Sahara Square is the place to be. From architectural wonders to the bright lights of the night life, we have an almost endless amount of things to see and do."
―Visit Zootopia website[2]
Sahara Square is a district for desert-dwelling mammals in the city of Zootopia. It is built on the opposite side of Tundratown's climate wall.
Description
Sahara Square is a sweltering desert oasis and resort district, designed for leisure, recreation, and other activities for Zootopians. Its architecture is composed of intricate clay and rock, mixed with lights and glass textures.
It has extremely high temperatures, reaching up to 102°F in one day. It is inhabited by a number of desert-dwelling mammals, such as camels.
It achieves its arid conditions thanks to a massive climate wall the district shares with the neighboring Tundratown, where the heat generated from maintaining the latter's frigid temperatures is released into Sahara Square.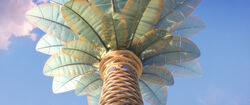 There are a number of high-end shops in Sahara Square, as well as casinos and the world-famous Palm Hotel. There is a central taxi system, largely run by the camels who take residence in the town.[3]
Development
Upon learning that desert animals are mostly nocturnal due to the heat of daytime, as stated by art director Matthias Lechner, Sahara Square's designers incorporated many nighttime activities, such as casinos and the giant Palm Hotel surrounded by an oasis.[4]
Role in the Film
Sahara Square is one of the locations Judy Hopps' train goes by on her way to the Zootopia Central Station. She marvels at the sights of camels racing and the Palm Hotel.
When Judy is working as a meter maid in Sahara Square, she spots Nick Wilde and Finnick melting the Jumbo-pop she bought for them earlier and collecting its juice in jars. This prompts her to follow the two around Zootopia, and she learns that they are making pawpsicles.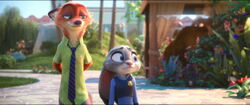 When Judy blackmails Nick into helping her find Emmitt Otterton, he takes her to The Mystic Spring Oasis, where he last saw the otter go.
Role in Comics
Sahara Square is where the Skunk Appreciation Parade is held.
Places of Interest
Inhabitants
Map
(click on the map to know more)
Gallery
References