"They're all jealous of the Amazing Sebastian! It's because I'm amazing, am I right?"
―Sebastian, Abracadabra
Sebastian (also called The Amazing Sebastian) is a male miniature horse in Zootopia: Crime Files. The sabotage of his latest show is the focus of Case 12.
Physical Appearance
Sebastian is a slender horse with auburn hair. He has a cream-colored blaze and a blond mane running down his neck. He wears a coral pink tuxedo with gold sequins and a white shirt with a black bow tie. His eyes are brown.
Role in the Game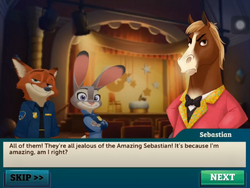 Following the sabotage of Sebastian's latest act, Judy Hopps and Nick Wilde visit his auditorium to ask the magician questions. Judy asks the horse if he knows anyone who would want to commit the crime. Unhelpfully, Sebastian recommends "all of them", claiming that everyone is jealous of him.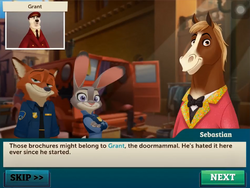 Later, Judy and Nick return to Sebastian. Nick states that they found some employment brochures in the mobile dressing room, and asks if they belong to Sebastian. The horse replies that they aren't his, but adds that times are tough, especially for a colorblind magician whose show just collapsed, like himself. He adds that the brochures might belong to Grant, the doormammal. Judy and Nick leave to talk to Grant.
Judy and Nick check back in later to see if Sebastian knows anything else about the sabotage. He says that the only way to access the trap door is through the mobile dressing room, and suggests that they check there. But he adds to make sure he isn't dressing when they look. Judy agrees that they would not want that. After checking the mobile dressing room, the pair find a bottle of super glue, which is used to seal the trapdoor shut. With enough evidence and information from Wanda, a fan of Sebastian, they arrest the culprit responsible for it.
Sebastian is not seen again after the case is solved.
Trivia
Sebastian is colorblind.[1]
Sebastian is the only miniature horse to be seen in Zootopia: Crime Files.
Sebastian's name is a reference to Li'l Sebastian, another miniature horse from the television show Parks and Recreation.
Gallery
References
Community content is available under
CC-BY-SA
unless otherwise noted.