"Yeah, I don't have to cower in a herd anymore. Instead, I can be an astronaut!"
―Sharla

Sharla[1] is a young female sheep that lives in Bunnyburrow in Zootopia. She is Gareth's older sister.
Physical Appearance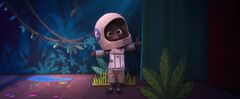 Sharla is a small sheep with curly, black wool that parodies her brother's. She has blue eyes and a large tuft of wool on the top of her head. Sharla wears a pink-and-white-striped shirt and lilac shorts. For the play, she wears a white robe, and then removes it to reveal a homemade astronaut costume.
Role in the Film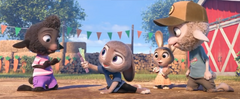 Only seen as a child, she participates in the Carrot Days Festival play about the evolution of animals alongside Judy Hopps, Jaguar, and Bobby Catmull. She talks about being an astronaut. Later, she is seen being bullied by Gideon Grey and his friend Travis, with Gideon stealing their tickets.
Judy stands up for them, however, Gideon pushes her to the ground, causing Sharla and the others to flee and hide behind a tree. She covers her eyes when Gideon scratches Judy across the face. After Judy retrieves Sharla, Gareth, and the other animals' fair tickets, Sharla thanks Judy and praises her for standing up to Gideon. She enthusiastically tells Judy that Gideon doesn't have any idea what he's talking about.

Trivia
Sharla's name is never spoken in the film.[2]
Gallery
References